---
2015 Regionial Convention

The 2015 Regional Convention is being hosted by the South Central Missouri Area and currently scheduled for 6/5-6/7 in Jefferson City, MO.
---
| | | |
| --- | --- | --- |
| | Registration is now open for the 2015 Mid-Iowa Council Railroad Camporee.If you have an interest in supporting this type of event or would like to be a part of this great event from May 8 to May 10, 2015, please visit the registration page or contact Bob Folkmann or Whit Johnson. Railroaders, Railfans, and Model Railroaders will be called upon to provide this program to scouts, please join us in sharing our hobby with these young men. | |
---
Updates:

3/9 - Volume64-4 (4Q 2015) of the Caboose Kibitzer is now available.

2/28 - The Calendar has been updated with the March switch list.

2/28 - Registration information for the 2015 Thousand Lakes Region convention is available.

2/28 - The slates for officer elections are now available.
---
WHO WE ARE!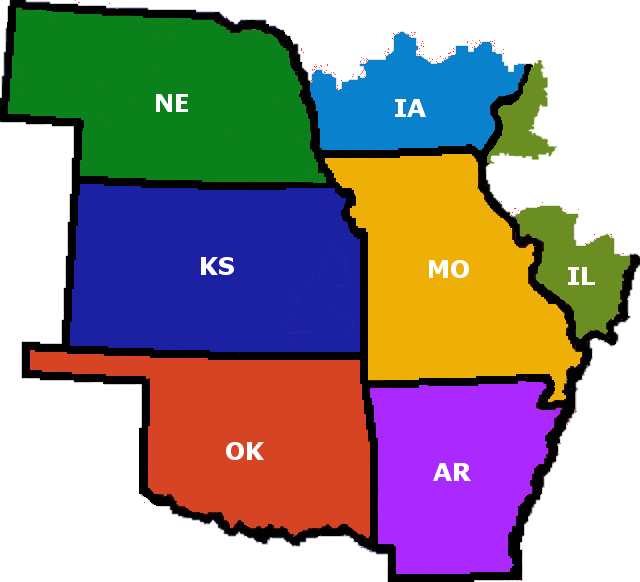 MCoR includes the southern half of the state of Iowa, the southern portion of Illinois adjacent to the St. Louis metropolitan area, and the entire states of Arkansas, Oklahoma, Missouri, Kansas and Nebraska. Since 1990, MCoR's leadership has fostered a strong program of developing local divisions with the purpose of bringing the potential for NMRA activity and involvement to a community near you. From only two divisions in 1990 located in metropolitan areas, MCoR now has well over a dozen divisions and over 1,200 members.
As division home pages are developed, they will be linked to the Division's name in the Board of Directors listing which follows. Be sure to visit the site for the division closest to you to find out who to contact for information on local meetings and other activities. E-mail addresses are included where available. Click on the e-mail link and your Web browser should allow you to compose an e-mail message. Feel free to send e-mail to MCoR Directors or Division officers to find out more about model railroading in your locality.
Again -- WELCOME and ALL ABOARD!!!